Our Sticker Offer Has Ended—But You Can Still Sign Up to Help to Protect the Prairie
We're Sorry—Our Sticker Offer Has Expired. But You Can Still Make a Difference.

While we can no longer offer you a free wooden sticker, we're hoping that you're still interested in helping to protect the American Prairie.
When Lewis and Clark crossed the prairie in the early 1800s, they experienced what Indigenous Peoples had seen for centuries—a thriving ecosystem teeming with life.
Today, less than two percent of prairie landscapes have been permanently conserved. Native species are at risk and their habitats are too small to sustain a viable future.
But through the support of people like you, we can restore a complete and fully functioning prairie ecosystem—the largest of its kind in North America.
Sign up to help protect the American prairie—and you'll hear from us soon on how you can make a key difference.
The innovative model for building American Prairie Reserve calls for stitching together three million acres of existing public lands using private lands purchased from willing sellers.
When these fragmented lands are connected, the Reserve will provide a continuous land area collaboratively managed for wildlife and recreation, the largest of its kind in the Lower 48 states. Using the American Prairie Reserve model, a patchwork of ownership transforms into a seamless prairie ecosystem.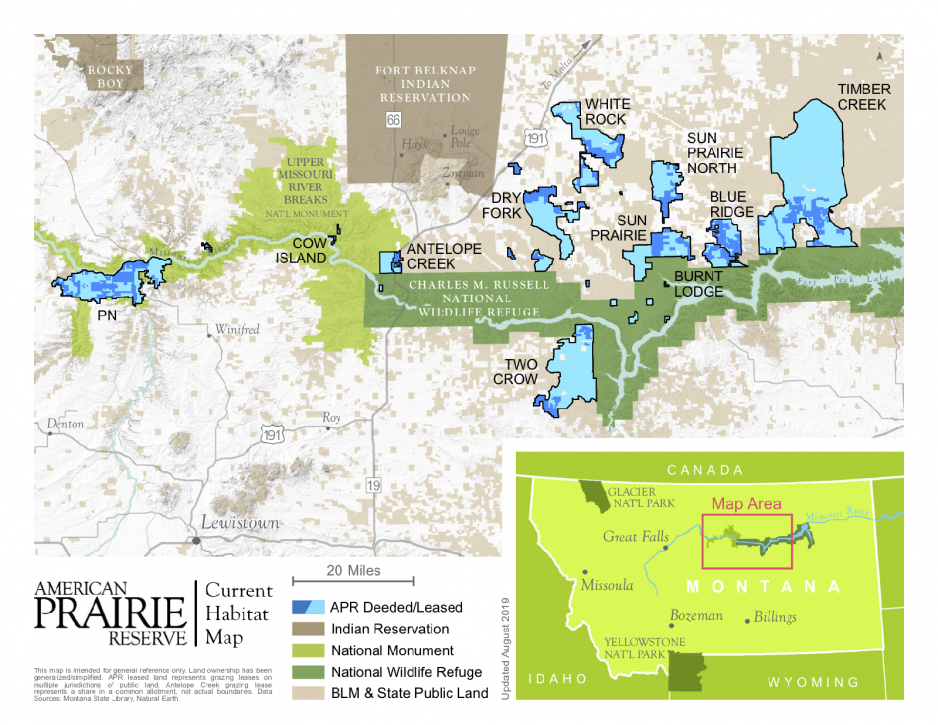 A bold mission to bring wildlife back onto its historic landscape.
Through the actions of people like you, we are returning the prairie to being as lush, expansive, and filled with wildlife as it was only a couple hundred years ago—when the ecosystem was truly self-sustaining.